Lectionary Reflection for Easter Day
The Resurrection of our Lord
April 8, 2012
"Do not be alarmed; you are looking for Jesus of Nazareth, who was crucified. He has been raised; he is not here. Look, there is the place they laid him. But go, tell his disciples and Peter that he is going ahead of you to Galilee; there you will see him, just as he told you." So they went out and fled from the tomb, for terror and amazement had seized them; and they said nothing to anyone, for they were afraid. — Mark 16:6-8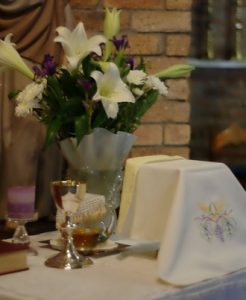 "Christ has died. Christ is risen. Christ will come again." These words from the Great Thanksgiving are often spoken by the congregation during Holy Communion in liturgical churches. On Easter these words ring especially true. It is mystery. It defies all logic and rational thought. It demands faith rather than reason. The empty tomb occasions both shouts of victory and mute terror and awe–if we are honest about it.
What does this really mean, that Jesus rose from death and the women encountered an empty tomb? How does one deal with the reality that God conquered death once and for all, went walking around and offering proof to his disciples, and then took off for parts unknown? The response of the women isn't really that far-fetched when you stop to think about it.
Whenever we cannot explain what we experience emotions take the lead in guiding our actions and reactions. Terror would be a natural response to the unexpected, especially where a dead loved one is concerned. Amazement would certainly be realistic when the terror of the moment gives way to a hint of hope. Could it really be true? Could the prophecies have been fulfilled? What's the only thing worse than seeing a ghost? Perhaps it would be seeing nothing but an empty grave with a serene messenger and no logical explanation. What would your response have been?
Life simply isn't neat and tidy. Every age and each generation faces challenges that are simultaneously similar and unique to that generation. We may say, for example, that the events surrounding 9/11 were the epitome of evil, but other generations would cite the Crusades or one of the two World Wars or the Inquisition. Horror and hope, unbelief and faith, and joy and pain are separated by thin lines of heart, soul, and mind.
For these reasons I find Mark's account of the resurrection, with its "cliffhanger" ending, to be a story that is most appropriate for our present age. Of course, the account of Jesus' death on the cross and his subsequent resurrection is not simply some tale told once a year; it is the very heart of our faith, the cornerstone of our discipleship journey. We are resurrection people, God-bearers who spread hope and love, infused with divine grace. Story is the method by which we communicate this truth, and the true beauty of Mark's account is that the women pass the story to us like a baton in a relay. It is our lap, our time to to be seized by the Spirit.
We may find ourselves filled with amazement, terror, doubt, or disbelief and quite unable to share this good news. Thankfully, we know from other accounts and additions to the story that they did recover and went on to witness to a world in need. And so can we! The story of God's love for all creation and the divine imperative to redeem it is not over yet, and we are part of that great narrative. Yes, this is a real story for uncertain times–indeed for all time.
May holy terror and amazement give way to hope and joy as you share the story once more. Blessings on your fearless preaching and teaching.
Photos by Tony Beeman, csscott2006, and Cea used under Creative Commons License. Thanks!