Lectionary Reflection for the Fifth Sunday after Epiphany, Year A
February 9, 2014
Is not this the fast that I choose: to loose the bonds of injustice, to undo the thongs of the yoke, to let the oppressed go free, and to break every yoke? Is it not to share your bread with the hungry, and bring the homeless poor into your house; when you see the naked, to cover them, and not to hide yourself from your own kin? Isaiah 58:6-7
A Facebook friend and colleague in ministry posted a provocative question/observation this week about how some Christians judge those whom they wish to help. This post sparked a lively and somewhat heated discussion about giving, need, judging, accountability, and interpreting the gospel. Clearly, not all Christians agree on the subject. Other folk offered scathing commentary on the church and Christians, citing hypocrisy, "holier-than-thou" attitudes, and judgmental behavior. Surprise. Surprise. Surprise.
It would appear that the same sorts of controversy that plagued the writers of Isaiah are still alive and well today. While we're not a people in exile, we are definitely in bondage to sin and culture and money and a host of
other things. And as many of us confess on Sunday worship, "we cannot free ourselves." As we look at once-filled but now-empty pews and dwindling resources, we ask what we've done wrong. We've been faithful, right? We try to maintain our buildings and keep the doors open for our members. We are welcoming "once folks get in the door"sometimes to a fault. We've kept busy with programs and committees. We have done good work. So, God, why is our 'fast' not acceptable? Why are our programs and projects and congregations floundering in this 21st century? What's wrong with the way we do church?
There are long and short answers to these questions, all of which can be debated on various fronts. Maybe, then, it is useful simply to look at how God answered the chosen people of Israel in the time of Isaiah. They have been complaining and lamenting for quite a while. Their beloved Jerusalem is in ruins, and they are wondering why God is not responding to their pleas for justice.
God's answer is not an easy one to swallow. Simply put, the answer is to stop throwing a pity party and get on with doing justice, loving neighbors, and acting like members of God's family should act. This answer convicts all of us today because we all fall short of the mark. We're good at rationalizations. Precious few of us take literally Jesus' instructions to sell everything we have and give it to the poor. We feel impoverished when we're really rich beyond measure. We give our resources with strings of judgment, disdain, and contempt firmly attached. We shake our heads, cluck our tongues, point fingers, and lament that someone should do something about this situation.
What if, I wonder, what if we took the words of Isaiah to heart in our own context? Suppose we agree to quit lamenting that the church isn't the way it used to be and that the "good 'ol days" had their own set of issues and problems. What if we decided that it didn't matter whether we saved for that rainy day or to have enough money to keep the doors open to serve as a hospice for the members who remain?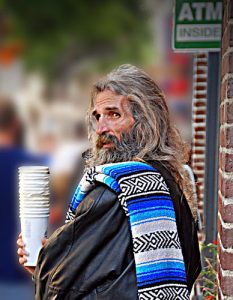 What if we determined to make a holy ruckus and really be about the counter-cultural business of addressing injustice, of working to free the oppressed, of solving hunger in our communities, and of digging in the dirt of poverty until we uncover its roots and deal with them? Is it possible that that is, indeed, the fast the God desires of us? More importantly, do we believe and trust that God will guide us and meet our needs if we follow the divine imperative outlined here?
If we really want to spread the love of God and the good news of Jesus Christ, then we must quit being so stingy with it. We need to be lavish and prodigal in our sharing of that with which we have been so graciously entrusted. We may have to take some baby steps. And we will fail. But I fear that if we fail to try that another decade will find us still bewailing the state of the church with our numbers even smaller and more pitiful in our lament.
We know what to do. Jesus tells us to be salt and light. We are to do better than those who are hung up on rules, regulations, and right practice. We are to be our Lord's hands, feet, eyes, and heart, Christ's body right here and right now. Go ahead. Take a step in trust. Then jump in with both feet. Finally, take a flying leap of faith that is so audacious and bold that people will indeed know whose we are and what really matters.
In Worship
Celebrate Salt and Light today in your congregation. Put together a short PowerPoint or video highlighting ways your congregation's light is shining. Give every worshiper a restaurant salt package when they leave. Glue it to a small card that says "You are the salt of the earth. Season this world liberally with the good news and love of Jesus."
With Youth
Review this week's epistle lesson with the youth, focusing on verses 1-5. What can we learn from Paul's explanation? Why is it important to "keep it simple"? How can we let the gospel speak for itself through our frailty and failings? When it comes to evangelism and sharing the good news, most of us go at it with fear, trembling, and weakness. It just doesn't come naturally to very many people, especially in an age and time where people are suspicious of Christians and "church." Youth have an uncanny ability to cut through the layers of unnecessary stuff and nonsense. They are more likely to want to accompany people and share the good news with the hands, feet, and hearts. Listen to their wisdom. Maybe this is a time to plan for a summer mission trip. What resources might your wider church bodies have available to assist you? What needs might you meet in the mission field of your own backyard? Remind one another that we are equipped by the Holy Spirit to be God's people in the world. We have all we need. According to Paul, "We have the mind of Christ" (vs. 16b).
With Children
A Recipe for Discipleship
This week's psalm (112: 1-9) functions as a kind of "recipe" for "happy" or faithful discipleship. Share some of the key ideas with the children. A "happy" or faithful follower of God is one who
delights in God's word

is gracious
is merciful
is righteous (you may have to unpack this word a bit)
is generous
is just (seeks justice and acts justly in all things)
is not afraid because God is with them
Find pictures of people exhibiting these actions, if possible find pictures of people in your congregation doing these things. Make a card with each idea/trait and another card with the corresponding photo on it. Place these cards in the largest mixing bowl you can find, and stir them up with a wooden spoon. You can remind children that "recipes" often are not precise but are nonetheless wonderful. Give out the word cards and photo cards and invite the children to "match-up" the words and actions. Challenge the children (and all worshipers) to find at least one way to live out these actions this week. Remind them that sometimes we have to start small and grow into discipleship. It is a process. Finish with a simple prayer.
Photos: ralph repo (G. Silk, restored), archer10, and Chris Yarzab, Creative Commons. Thanks!