Fourth Sunday after the Epiphany, Year A, January 29, 2017
Lessons:  Micah 6;1-8, Psalm 15, 1 Corinthians 1:18-31, Matthew 5:1-12
Theme: God's faithful and generous people are called to follow and serve. We may feel like we are ill-equipped or not "enough" to respond to God's call, but in this week's lessons we hear affirmation that God requires simple yet profound action and calls everyone to use his or her gifts and talents in the process.
Key Scripture:  Consider your own call, brothers and sisters: not many of you were wise by human standards, not many were powerful, not many were of noble birth. – 1 Corinthians 1:26
Preaching/Teaching Reflection
The work of ministry and of discipleship is not for the faint of heart. But I love these lessons today, especially viewing them through the lens of our vocational call; indeed, the call of all the baptized to live as children of light, to serve God, to love neighbor, to be "little Christs" in a world that sorely needs to know about him and experience his amazing grace and love.
If we take them seriously, the discipleship walk and the call to serve God' people can be both blessedly rewarding and extremely difficult. What we do, all of us, is some pretty hefty work of the kingdom. And it takes each one of us in this expression of Christ's body to do the work at hand. The role each one of us plays in the Body of Christ weaves into something much bigger than what any one of us does alone, and the work flows forth from our local contexts and congregations, into our communities, through our denominational bodies, rippling outward and onward. Like gazing at the vast ocean, we can see only as far as the horizon and feel only the waves that lap at our feet, but the ocean goes on and on. It eventually evaporates into the air and rains back into the rivers and lakes, before flowing again into the sea.
The life of discipleship is never ending, an unbroken circle and continual story. When we gather around Christ's table for communion, we feast with the saints of all times and places as our chronos time temporarily suspends its incessant linear ticking to coalesce with God's kairos time.
As you prepare to preach or teach this Sunday, consider the landscape of your own ministry. What are the challenges? The trials and tribulations? Does it seem like your work will never be done, never truly caught up? Conversely, what are the joys? Where do you see God at work? What are the signs of gospel's living hope in your community? How do you experience the Creator's abundant blessings? How can you help those with whom you serve to ponder these questions?
How will the veteran 30+ year Sunday school teacher understand her ministry? How does the treasurer understand his ministry? Does your youth leader regularly experience God-sightings in his or her holy work? Do stewardship team members truly have a sense of God's abundant blessing in their work?
There's that "blessing" word again! We hear it in this week's familiar gospel in what we call "the beatitudes." Ah, blessing! What in the heck is a blessing? What does it mean to be blessed? Makarios (the Greek) sounds more like one of those dances everybody was doing several years ago instead of a basic faith concept.
The folks Jesus calls blessed (or fortunate or happy or well-off or however you translate it) seem far from what the world today would call blessed: the poor in spirit, the mourners, the meek, those who hunger and thirst for righteousness, the merciful, the poor in heart, the peacemakers, the persecuted, the spat-upon and cursed. Doesn't sound like the best of the best and the most successful does it?
Makarios or blessed has to do with the state of being IN CHRIST. It has nothing to do with our merit or our worthiness or our bootstraps. Being blessed is all about God. It's about the assurance that God goes with us, that God is present both in our messes and in our marvels. We are not alone.
These are important words for us to hear, I think. It's easy to get sucked into the "doggone dailies" and to succumb to the tyranny of the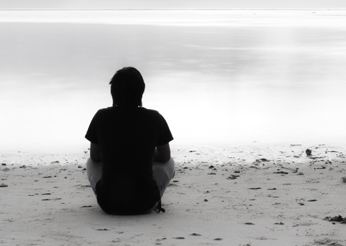 immediate, both in ministry and in daily life. We lose sight of our blessedness then. Sometimes we even lose sight of our calling to love and to serve, and occasionally even relegate our faith to the back burner.
But still that makarios of God is there. The Spirit still blows through our lives, our worshiping communities, and the global church in all of its expressions, infusing every atom and molecule of being in this beautiful, broken world.
Yes, when the going gets weird (and it will), and when you wonder just how this discipleship and leadership thing is supposed to work, avoid overthinking the situation. Instead, study the lessons for this week, particularly those timeless words of guidance from the prophet Micah: "He has told you, O mortal, what is good; and what does the LORD require of you but to do justice, and to love kindness, and to walk humbly with your God?"
In Worship
We are Called
Why not run with the idea of asking folks in your congregation to ponder some of these questions:
What are the challenges of being a faithful disciple of Christ today? What trials and tribulations do you face (if any)? Conversely, what are the joys of faith and discipleship? Where do you see God at work? What are the signs of gospel's living hope in your community? In the world? How do you experience the Creator's abundant blessings? How can you best share and be a steward of God's abundance?
Have congregants consider their own discipleship walk, their service within the body of Christ, and their sense of call or vocation in the "priesthood of all believers." If possible give them some time to discuss this openly with others. If your folks aren't talkers, give them a bulletin insert on which to ponder these questions.
With Youth
Blessed
This week's gospel lesson could also read as a way to NOT be successful by the world's standards. When Jesus talks about the poor in spirit, the mourners, the meek, the one who hunger and thirst after righteousness, the merciful, the peacemakers, the pure in heart, and the those who are persecuted, he is assuring these people that they are not alone in difficult places. The world according to Jesus is not one of striving to climb the ladder at the expense of others. The world according to Jesus is not about who dies with the most toys. The world according to Jesus is not about amassing as much fame and fortune as possible. No. Jesus turns the world upside down and inside out. God's economy is the opposite of the 1% and the rest of us–it's about the 100%.
Invite your youth on a "digital scavenger hunt" to find online stories of those whom Jesus would consider "blessed." Post stories or images to your youth group Facebook Page or pin them to a Pinterest board. Another option is tweet the stories to a #blessedstories hashtag or to your church youth group's hashtag. Have a large youth group? Divide them into teams for a "Super Blessed" Competition to go along with your Super Bowl party. What better to contrast with the extravagance of this event than a recognition of what Jesus promised to bless?
With Children
What God Wants
According to the prophet Micah, God wants requires three things of us: 1) to do justice, 2) to love kindness, and 3) to walk humbly with God. What does this mean? Tell the children that all three things involve action–do, love, and walk. God wants us to be active followers. The big concepts may be a little tough to unpack, depending on how old the children in your congregation are, but emphasize doing justice and loving kindness are focused on others rather than on self. Maybe you can ask the children for examples of what it means to them to "do" justice and "love" kindness. Accept all answers. You may have to unpack the concept of justice a little for them. What can it mean to walk humbly with God? Does it mean being present for God, following God, and being focused on the things of God rather than the things of this world? Accept all answers. Children never fail to surprise me with their insights. See if you can get them to remember all three action verbs as the way we are called to be active as God's children in this world. End with a simple prayer like this one: Dear God, please help me to do justice this week and think of others. Help me to love kindness and to care for others. And most of all, help me to follow you and walk with you all week long. Amen!
Weekly Stewardship Bulletin Insert
God doesn't simply call the experts, the intellectual elites, the wealthy, and the powerful to serve and lead. Quite the contrary! All are called—and equipped by the power of the Holy Spirit and in community with the faithful—to serve and follow Jesus. That means each one of us is responsible for discerning the gifts and talents God has given us and using them to strengthen the Body of Christ for the sake of the world. How are you using your gifts and talents? What do you need to release their full potential within our faith community?
Stewardship at Home
Learning God's "Love Languages"
In his book The Five Love Languages, Dr. Gary Chapman identifies five "love languages" that are common to all people. Although to some degree everybody uses all the languages–words of affirmation, spending quality time, receiving gifts, acts of service, and physical touch–most people have a one or two "primary" love languages that they naturally use.
Chapman's 30 plus years of counseling experience and background as an anthropologist have consistently shown that when a couple learns to speak each other's primary love language they greatly enhance their ability to express love and enjoy a solid, affirming relationship. These principles hold true across cultures and are applicable to relationships with one's children, parents, and even co-workers.
This week's lesson from Micah (6:1-8) says a lot about God's love language and how we can respond. God seems a whole lot more interested in "acts of service" and "quality time."  Of course, Chapman's five love languages do not exactly parallel the relationship a disciple shares with God, but perhaps this is a way of beginning to talk about what it means to love God and one another in ways that are productive and that lead to deeper and lasting joy and commitment. Explore the five love languages and consider how you can respond to God's love by speaking God's "language."
Photos: gilliu00 and Leland Francisco, Creative Commons License. Thanks!
Note: Reprint rights granted to congregations and other church organizations for local, nonprofit use. Just include this note: "Copyright (c) 2017, Rev. Sharron Blezard. Used by Permission." Other uses, please inquire: thewritelife@hotmail.com.