Revised Common Lectionary Reflection, Proper 25 (30), Twentieth Sunday after Pentecost & Reformation Sunday, Year C
October 27, 2019
Proper 25: Joel 2:23-32; Psalm 84:1-7; 2 Timothy 4:6-8, 16-18; Luke 18:9-14
Reformation Sunday: Jeremiah 31:31-34; Psalm 46; Romans 3:19-28; John 8:31-36
Theme:  God's faithful and generous people are constantly being reformed, both as individual disciples and as members of the Body of Christ; this, too, is stewardship.
Key Scriptures:  I tell you, this man went down to his home justified rather than the other; for all who exalt themselves will be humbled, but all who humble themselves will be exalted. –Luke 18:14
Then Jesus said to the Jews who had believed in him, "If you continue in my word, you are truly my disciples; and you will know the truth, and the truth will make you free." -John 8:31, 32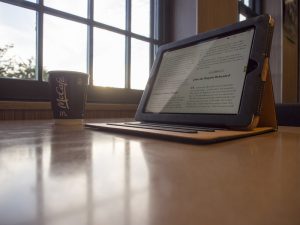 Dear preachers and teachers, this week you have some mighty fine options for proclaiming the gospel and equipping disciples. Whether you choose the lessons for Reformation Sunday, the Twentieth Sunday after Pentecost (Proper 25), or a mash-up of the two, there's enough meat in these lessons so that no one need leave worship unfed. If you follow in Karl Barth's footsteps with your Bible in one hand and the newspaper (or your electronic device) in the other, you should be able to make some clear 21st century links to the lessons that are applicable for your particular context.
In 2017 we celebrated the 500th anniversary of the Reformation. Today the Church is quite young in another 500-year period of history, and the Body of Christ continues to find itself reforming. This process of radical change is welcomed by some, met with anxiety or downright fear by others, and completely ignored and discredited by others. It's rather comforting to know that for all its wonders and foibles, human nature remains quite consistent across the ages. Or, as author Stephen King reminds us, "Sooner or later, everything old is new again." King, of course, was referring to his novels and the process of writing, but the truth of the saying can easily be applied to most things in life—including church. It's both good work and good stewardship to help folks see the connections between our present day situations and questions and the situations and concerns of God's people as recorded in Scripture.  Blessings on your faithful work of ministry, your stewardship of the gospel, and your tireless worship leadership!
Joel 2:23-32: Through the prophet's words we are offered a vision, a foretaste, of the feast to come. In a world where God's beloved people have been exiles, this lesson provides hope. What hope do folks in your congregation need? What vision of the "kingdom of God" breaking in can you paint for them?
Psalm 84:1-7: This song of praise could easily be an anthem for today: Here's what it looks like to abide in God, to long to worship, and to enjoy a deep and fulfilling relationship with the Divine. It is not to praise a particular building but rather to acknowledge that where God dwells is good. Almost all people long for security, relationship, and hope. God provides that.
2 Timothy 4:6-8, 16-18: We hear these words of hope and comfort at funerals, but there's definitely a place for all disciples to pause, look back upon the shape of their discipleship journey and honor that God is ever and always with us no matter the trajectory or craziness of the path taken.
Luke 18:9-14: Be careful with whom you identify in this parable. Be careful, too, in how you respond to the other character. To quote my grandmother (a practical theologian and faithful follower of Jesus all her life): "Don't get too big for your britches" or "Don't go being all judgmental, you hear?" Perhaps the big takeaway is that humility is a grossly underrated and difficult trait, one that we all need to cultivate.
Jeremiah 31:31-34: The days are surely coming! We can be hopeful in our age, too, for God continues to do new things, to love us, and to invite us into the dance of real and lasting life. If that's not reformation, I don't what is.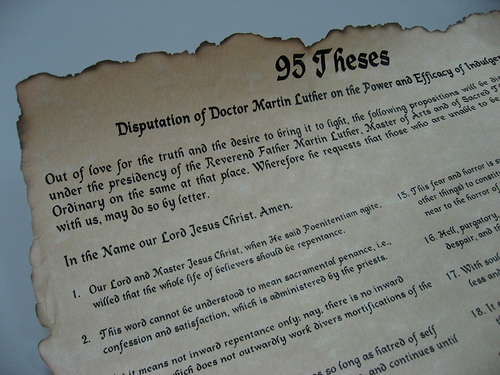 Psalm 46: This psalm abounds with hope and promise as the writer's words describe something of God's nature and why this matters to God's people. No matter how rough the going gets, no matter how much our tolerance for change is tested and stretched, God is with us and will not forsake us.
Romans 3:19-28: This classic Reformation text, one that was foundational for Luther's work, reminds us that grace and justification come from God, not from our "work." This lesson that was so important some 500+ years ago still speaks to the ongoing reformation where God seeks to restore all things in Christ. How do we cast these words forward in hopeful anticipation of the church's continued reformation and the redemption and restoration of all creation?
John 8:31-36: We are being freed! Even as we (individually and as the Body of Christ) are being reformed and made new, we are ever more deeply connected to and embedded in the Logos, in Jesus. Be careful though, for like those early Judeans, there's always a temptation to rely on tradition and on what we think we may know. Jesus is really good at shaking things up and leading us down new roads for the sake of the gospel.
In Worship
Be careful with the Reformation lessons to avoid any whiff of anti-Semitism or any denigration of our Roman Catholic siblings. Do take advantage of these lessons to speak a prophetic and gentle word about reformation and change. Because of God's love and grace, we need not fear the changes around us but rather equip and empower one another to see the beautiful and amazing new things that God is up to all the time. Let the tone of your worship—prayers, hymns, litanies, charges—reflect this approach to reformation.
With Youth
Invite your youth to dream about changes in the church and where they see God leading us. Using this week's lessons as a frame, spend some time in deep listening and prayer with the youth. Be sure to find ways to share out their observations and ideas, perhaps even taking their work to your church council, vestry, or board.
With Children
This week's focus verse is Psalm 84:1– How lovely is your dwelling place, O LORD of hosts!
You can take this approach with either of the appointed psalms, talking about how the psalms were the equivalent of the ancient Israelites' hymn book. The psalm this week helps us learn something about the nature of God. Next, challenge the children to write a short song about how they see and experience God. Keep it simple. Write it down. If possible have the children read their contemporary psalm (with your help) to the congregation.
Weekly Stewardship Bulletin Insert
In many churches this Sunday recalls the Reformation and Martin Luther's role in church reform in his time. More than 500 years later the church continues to change, and we as faithful stewards are called to boldly lean in rather than hunker down in fear. How ready for change are you?
Stewardship at Home
Take some time to consider Jesus' words about freedom in the Reformation Sunday gospel lesson (John 8:31-36). How free do you feel? What worries and concerns you? What gives you hope and joy? How does your relationship with Christ set you free—really free? How can your freedom in Christ abate your fear of change and the unknown?
If you've never before read Martin Luther's On the Freedom of a Christian, take a look at it this week. You can access a digital copy here and study notes here.
2016 Reflection: https://www.stewardshipoflife.org/2016/10/freedom-what-freedom/
2013 Reflection: https://www.stewardshipoflife.org/2013/10/reformers-mashup/
2010 Reflection: https://www.stewardshipoflife.org/2010/10/reformation-sunday-celebrating-our-freedom-in-christ-to-be-good-stewards/
Images: Robert Couse-Baker; Brett Jordan; and Kerren, Creative Commons usage license. Thanks!
Note: Reprint rights granted to congregations and other church organizations for local, nonprofit use. Just include this note: "Copyright (c) 2019, Rev. Sharron Blezard. Used by Permission." Other uses, please inquire: thewritelife@hotmail.com.