Revised Common Lectionary Reflection, First Sunday in Lent, Year A
March 1, 2020
Lessons: Isaiah 58:1-9a (9b-12); Psalm 122:1-9 (10), 1 Corinthians 2:1-12 (13-16), Matthew 5:13-20
Theme:  God's faithful and generous people enter Lent as a time of spiritual spring cleaning, their eyes firmly fixed upon Jesus.
Key Scripture:  Therefore let all who are faithful offer prayer to you; at a time of distress, the rush of mighty waters shall not reach them. You are a hiding place for me; you preserve me from trouble; you surround me with glad cries of deliverance. — Psalm 32:6-7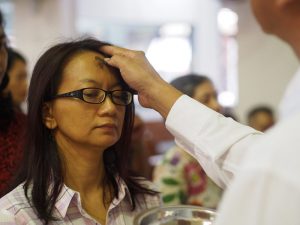 In recent years Lent has become for me a time to do two things: 1) engage in some serious spiritual spring cleaning, and 2) turn my eyes to Jesus and follow him into and through the desert places of my existence. Instead of focusing on denial of something like chocolate or coffee or wine, or on adding a spiritual practice to an already full schedule, Lent has become more about releasing that which would separate me from God, and turning inward for examination, reflection, and prayer. It is a call to return to my center, to reconnect fully to the Divine power source of all life and creation, and to listen to God speaking to and through gut, heart, and head. It's a season to pay close attention.
We humans have such a short attention span when it comes to the spiritual life. It is not always clear whether our spiritual "squirrel brain" is a result of cultural conditioning, an egoic emphasis on multi-tasking and doing more with less, or simply human nature. It is, however, a highly contextual reality that requires our attention and time. Lent provides that holy framework of six days of "fasting" broken by Sabbath "feasting."
The lessons this week point to the results of human folly, fear, and ego. The Old Testament lesson from Genesis recounts the story of the first humans' inability to follow instructions concerning the tree of the knowledge of good and evil. I don't know whether you think it's comforting or distressing to know that human beings have been making damaging choices since the beginning of time. At least we're fairly predictable; however, you'd think we'd finally learn and adapt. Right?
That's where connecting (or reconnecting) to our divine power source comes in. The gospel lesson for the first Sunday in Lent is the familiar story of Jesus' temptation in the wilderness. A challenge for preachers and teachers is to avoid making this simply an annual reading with little application to our own lives. Jesus' example of meeting temptation head-on and pressing through and beyond it should give us hope and confidence to press on ourselves. Want to avoid the attractive but dangerous traps of power, self-satisfaction, and ego? Jesus lays out the way to say no to the powers of empire and evil, and to the wayward tendrils of our own insecurity, fear, and longing. This desert crucible, arid testing ground, and humbling journey is necessary both for Jesus and for us as his followers. Testing and refining precede Jesus' ministry and suffering. Why would we expect life to be any easier for us today?
Evil and the forces of empire are just as insidious and active in our world today as they were in first century Palestine. These forces are conditioned to disconnect us from our true power source, to lure us away from that which is life-giving and sustaining, and to drive us to eventual destruction and pain. So, just as God admonished in last week's mountaintop Transfiguration story, we must listen to our Lord, paying careful attention and following closely in His footsteps. Jesus' response to the devil's temptations are meant for us, too: 1) "One does not live by bread alone, but by every word that comes from the mouth of God," 2) "Do not put the Lord your God to the test," and 3) Away with you, Satan! For it is written, 'Worship the Lord your God, and serve only him.'" Notice all three responses draw our attention and devotion to God, our ultimate power source, our tireless lover, and the One who longs to give us lasting life.
I pray that each one of us will listen to Jesus, connect ourselves to the Divine power source, and follow our Lord with confidence and hope. Do the work of spiritual spring cleaning, of letting go of ego, quests for power, and insecure greed that leads to self-absorption. Real life is about so very much more. Seek during these days of Lent, and you will surely find answers, hope, and God.
In Worship
Last week we heard the voice of God telling Peter, James, and John "This is my Son, the beloved; listen to Him!" During Lent we look to Jesus and follow our Lord, cleaning our hearts and lives, our physical spaces in this world, drawing ever nearer to His love, mercy, and grace.
This week why not consider the hymn "Turn Your Eyes Upon Jesus" by Helen Howarth Lemmel? Originally titled "The Heavenly Vision," this classic hymn's lyrics help us focus on Jesus as we do the work and walk of this season of Lent.
Here's a link to a YouTube version sung by Lauren Daigle, and here's a website where you can find more information about the hymn and author Helen Howarth Lemmel (1863-1961).
With Youth
Show a clip from a film about Jesus' temptation in the wilderness. My personal favorite is a scene from Martin Scorsese's film The Last Temptation of Christ. Here's a link to a YouTube clip.
Invite youth to ponder whether Jesus' temptation, following immediately on the heels of his baptism, resembles a vision quest (Native American tradition) or walkabout (Aboriginal tradition). What sort of vision quest might your youth find interesting and helpful? Might you look toward planning something at one of your denominational camps or retreat centers? Might Lent offer some time for visioning and questing, for testing and more deeply connecting to God?
With Children  
This week's focus verse is Matthew 4:10: Jesus said to [the devil], "Away with you Satan! for it is written, 'Worship the Lord your God, and serve only him.'"
Have you ever been tempted? I have! One of the things that I find the most tempting is a dish of good chocolate candy. It just happens that I have a bag of chocolates right here. They sure smell good! I KNOW they taste good! Yum! I could eat this entire bag! Don't they look yummy? I bet you might like some. Have I tempted you yet? We'll come back to the candy, I promise. In fact, I'll give you one piece each right now, but you have to promise to NOT eat it until your adults tell you it's okay to do so. Can you hold a piece of candy and not eat it? Yes? Okay. Here you go.
Today we learn about Jesus being tempted by the devil for a long time in the desert. He was hungry, thirsty, and probably really tired of being outside in the hot dusty days and cool damp nights. The devil really hit him where it hurts: promising food (he was hungry), fame and power (he was lonely, exhausted, and dirty), and a healthy boost to Jesus' tired mind (hey, didn't our Lord deserve some comfort?). No matter how the devil tempted Jesus, our Lord kept his focus on God and kept the devil at bay.
Jesus gave us this example so that we can know that we can withstand temptation to follow God, love our neighbors, and share the good news. God wants us to do well, to have real life, and to know how much we are loved. God also wants us to be connect to the divine power source. How do we do that?
We show up here in community to worship and be prepared to live in this world. We can read the Bible and learn about Jesus. We can come to Jesus' table and be fed. We can pray and study. We can serve others and keep our minds off our own wants and desires. And we have the Holy Spirit to walk with us and help us (even though we can't see the Spirit). Every time we don't give into temptation we get a little stronger and more able to focus on the good—to focus on God.
Still hanging on to your candy? Good! Don't be tempted to do that which may not be good for you or for your neighbors. Stay connected to Jesus, and all will be well. Let's pray!
Dear God (Dear God),
Thank you for loving us (thank you for loving us) and thank you for helping us not be tempted (and thank you for helping us not be tempted). Draw us closer to You (Draw us closer to You), help us to be strong (help us to be strong) and help us to do good in Jesus' name (and help us to do good in Jesus' name). Amen. (Amen.)
Weekly Stewardship Bulletin Insert
Faithful stewards are not immune to temptation. Lent gives us a wonderful opportunity to focus on Jesus, to listen to Him, and to love one another more fully. How will you stay connected to your heavenly power source this Lent?
Stewardship at Home
This week consider watching "Preparing for More" with Dale Ryan, a film from Work of the People. How might God's economy of abundance inform your choices for observing and living this season of the church year? Ryan's wife gave up shame one year for Lent. How do you hear this story?
Want to go deeper? Check out this "porch session" with Walter Brueggeman and Peter Block entitled "Nurturing a New Narrative." How might you have more conversations with your neighbors to learn and grow together?
2017 Reflection: https://www.stewardshipoflife.org/2017/03/what-does-this-mean-examining-our-identity/
2014 Reflection: https://www.stewardshipoflife.org/2014/03/the-examination/
2011 Reflection: https://www.stewardshipoflife.org/2011/03/you-are-invited/
Reprint rights granted to congregations and other church organizations for local, nonprofit use. Just include this note: "Copyright (c) 2020, Rev. Sharron Blezard. Used by Permission." Other uses, please inquire: thewritelife@hotmail.com.