Revised Common Lectionary Reflection, Twenty-Third Sunday after Pentecost, Proper 25 Year B & Reformation Sunday
October 28, 2018
Lessons: Jeremiah 31:7-9; Psalm 126; Hebrews 7:23-28; Mark 10:46-52 (22nd Sunday after Pentecost) and Jeremiah 31:31-34, Psalm 46, Romans 3:19-28, John 8:31-36 (Reformation Sunday)
Theme: God's faithful and generous people understand that prayer and trust are key elements of reformation and renewal; they are not afraid to ask and pray.
Key Scripture: The Jesus said to him, "What do you want me to do for you? The blind man said to him, "My teacher, let me see again." Jesus said to him, "Go; your faith has made you well." Immediately he regained his sight and followed him on the way.  Mark 10:51-52
Preaching/Teaching Reflection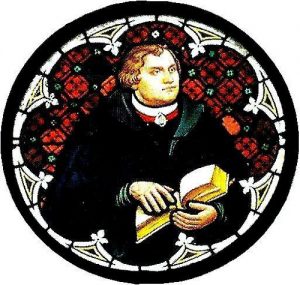 Whether you are celebrating Reformation Sunday or the Twenty-Third Sunday after Pentecost this week, I encourage you to make Bartimaeus' healing story your story, too. After all, each one of us stands in need of some kind of healing and ongoing renewal. Our country and systems stand in need of reform and renewal. Our churches definitely still stand in need of ongoing reformation and renewal as we and the world around us shift and change. If, then, we all stand in need of reformation and renewal, why is it so doggone hard to experience the healing and hope of this process?
You've probably heard a version of the "church joke" that goes like this: A congregation is interviewing a potential minister and tells her "We're willing to do anything to change, except, well, change." I am convinced that a failure to risk change is motivated by the gnarly vines of fear taking hold and choking out our better angels.
"What if we take some risks, change, and nothing happens?"
"What if we spend some of our endowment on long-overdue building upgrades, and nobody new joins our church?"
"What if we invest in a new dinner church worship on Friday nights and it flops?"
"What if we can't get enough volunteers?"
"What if new members don't start giving like we do or valuing our traditions?"
"What if new folks want to take over and change things?"
What if … what if … what if … what if? See what I mean? Just hearing this litany of questions and concerns forms a knot in my throat and raises my anxiety level. These "what ifs" are guaranteed to block renewal and constrict reformation. This kind of attitude will ultimately drive the last nails in the coffins of the church as we know it today. To be sure, the Church of Jesus Christ will continue, will reform, renew, and reconfigure itself to meet the challenges and opportunities of a new era. We will die. Many of our traditions and strictures will pass away. Ultimately, this is not a bad thing. Just ask the Apostle Paul. Not a one of his mission starts is still a worshiping community today.
I've been present for numerous council meetings where struggling congregations and weary leadership gasp for the oxygen of continued life like fish on the beach. All we need is one more chance, they say with a hint of retrenched resolve. Let us move the deck chairs of ministry and worship style around St. Titanic on the Atlantic just one more time. Most of these efforts will fail, merely pushing the hospice timeline a little further into the future. Occasionally, however, one idea will find expression and a group of leaders will catch the fire of the Spirit and new life will happen.
What makes the difference? There's really not one recipe for church renewal success, but there are some commonalities, and they begin with spiritual renewal and reconnecting with Jesus. This is where the story of Bartimaeus and Reformation Sunday converge in a useful way for preaching and teaching.
Let's assume we all want healing and renewal. Let's assume that the words scribbled on a piece of paper in Luther's pocket as he lay dying apply to us, too: "We are all beggars. This is true." Let's agree that all of us suffer from blindness in some way. Now let's pretend that Jesus walks by.
Will we be bold like Bartimaeus and shout all the more loudly when the world tries to silence us? Are we able to simplify our request like the blind beggar—asking only for mercy?
Then, what if it happens? What if Jesus calls us over and asks what we want him to do for us? What would it look and feel like to spring up and leave our protective cloak behind and stand in all our blindness and paucity of spirit before the incarnate God? I wonder for what would we ask Jesus? To restore our vision? To help us see a new way of being? To be healed?
Finally, here's the kicker. When Jesus does answer our prayer, what is our response? Do we, like the beggar, follow Jesus on the way, risking everything for the sake of the gospel?
Perhaps this is what we should ponder on the five-hundred-first anniversary of the Reformation. Blessings on your faithful proclamation and bold teaching.
In Worship
For the prayers today invite congregants to pretend they are Bartimaeus—without sight, without hope, without a future. How will this stance affect their prayers to God? When bootstraps and resourcefulness and independence aren't in our toolkit, how will that influence our relationship with God? What do you want Jesus to do for you? Can you turn over your prayers in faith that Jesus will indeed help you gain new vision and by faith be healed?
As part of the sending today, consider using this option:  "Go; your faith has made you well." Share the good news. Be the good news. Love God and neighbor with your whole heart and being. And let all God's people say: AMEN! We will!
With Youth
Talk with your youth about blind spots. Those who have taken driver's ed will be familiar with the concept when it comes to cars and driving. But what about the blind spots we have in our character and mind that keep us from seeing, understanding, and entering into relationship with others. How might we ask Jesus to heal us, and what might that look like?
With Children
This week's focus verse is Psalm 126:5-6: Those who sowed with tears/will reap with songs of joy./Those who go out weeping, carrying the seed,/will come again with joy, shouldering their sheaves.
Ask the children if they have ever been sad. What was it like? What made them sad? Did they cry? Ask them if they remember what helped them move beyond their sadness to joy? If you can, provide an example from your own life. Remind the children that there will be times in our life when we are sad, when we feel defeated, alone, and hopeless. This week's psalm, however, reminds us to be hopeful because God will not forsake us. God will help turn our tears into joy, and our seeds into a bountiful harvest. Finish with a simple prayer for those who are sad, asking God to bring them joy and hope and peace.
Weekly Stewardship Bulletin Insert
Are you a steward of prayer? Do you take seriously the reality that we can ask Jesus what we want him to do for us? If so, how bold are you in your requests, and how willing are you to act on the answers? Faithful stewards take risks, knowing that our God is ever near and always faithful.
Stewardship at Home
This week ponder the words of David Haas' lovely hymn "You Are Mine." Make this a mantra for your prayer and meditation—that God loves you and claims you and will bring you home. You have no reason to fear. How might this hymn give you the courage and purpose to more closely follow Jesus and live your life fully and with love for God and neighbor?
If you have children at home try spending a day or part of a day blindfolded. What is it like to not be able to see? What are the challenges? Do your other senses begin to be heightened? What are the dangers and obstacles? What is it like to have to ask for help? Give thanks for the gift of sight. Consider making a gift to a ministry that helps those with disabilities if you have extra resources. Pray for those who are in need of hope and healing.
Here's a look back at our 2015 Lectionary Reflection: https://www.stewardshipoflife.org/2015/10/oh-the-options/
And here's the 2012 Lectionary Reflection: https://www.stewardshipoflife.org/2012/10/open-my-eyes-and-write-on-my-heart/
Photos: vincent desjardins and Chase Elliott Clark, Creative Commons usage license. Thanks!
Note: Reprint rights granted to congregations and other church organizations for local, nonprofit use. Just include this note: "Copyright (c) 2018, Rev. Sharron Blezard. Used by Permission." Other uses, please inquire: thewritelife@hotmail.com.