Revised Common Lectionary Reflection, All Saints Sunday & Twenty-fifth Sunday after Pentecost, Proper 26 Year B
November 4, 2018
Lessons: Isaiah 25:6-9, Psalm 24, Revelation 21:1-6a, John 11:32-44 (All Saints Sunday); Deuteronomy 6:1-9, Psalm 119-1-8, Hebrews 9:11-14, Mark 12:28-34 (25th Sunday after Pentecost)
Theme: God's faithful and generous people are knit together across time and space, gathered into one in Jesus, and we look forward to that feast that will have no end in a place where sorrow is no more, a place where love reigns.
Key Scripture: On this mountain the LORD of hosts will make for all peoples a feast of rich food, a feast of well-aged wines, of rich food filled with marrow, of well-aged wines strained clear. And he will destroy on this mountain the shroud that is cast over all peoples, the sheet that is spread over all nations; he will swallow up death forever.  Isaiah 25:6-9
Preaching/Teaching Reflection
There's nothing like a good communal meal to give that foretaste of the feast to come when the reign of God is made complete and all people will be united under the rule of love. I shared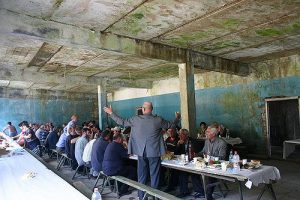 one of those meals today with colleagues. Tables were joined to form one long banquet table, and an array of delicious pot-luck dishes filled almost every other surface. There was joy, laughter, celebration, and there were long moments of silence as everyone took delight in the delicious offerings prepared with love and served with care and gladness.
Yes, a feast is a good equalizer. Whether it's a neighborhood block party, a church potluck, a gathering of family or friends—no matter the occasion, food knits both our hearts and bellies together in mutuality and agape love as surely as yarn and needles come together to craft a shawl.
A funeral meal serves as a particularly touching manifestation of the power of shared food. It doesn't matter if it's prepared and served by a church kitchen committee, is a potluck affair, is catered by a pro, or served up in a local restaurant, this meal that binds us together. After the tears of the worship service and the pain of the interment, this liminal space where family and friends gather to do the most human of activities—eat and talk—is made beautiful and sacred. Stories are shared, laughter mingles with tears, and plates of comfort food are consumed with gratitude and gusto.
It is a feast of love and memory. Echoes of the Eucharist and memories of Isaiah 25:6-9 are clearly embedded in such a meal. For a short time, grief takes a back seat to roast beef and mashed potatoes or barbecues and dessert bars. It is a moment of normalcy and hope in the midst of sorrow.
What if we envisioned All Saints Sunday as a sort of "funeral lunch" in liminal space? The elements are there: remembering those who have died, family in friends in various places on grief's non-linear journey, a shared Eucharistic meal, and the love of Christ covering the entire time and space. Yes, of course, it is so much more than that. In that collective worship, we truly are in the company of all the ordinary and extraordinary sinner/saints who have gone before, who are with us now, and who are yet to come.
This day provides a powerful witness to the truth that love wins, and that death is not victorious. In great love, God sent the Son, and in with a love stronger than death Jesus defied all darkness
and the powers of evil, breaking out of the tomb, resurrected to new and eternal life. A feast of love, a memory of what was, a moment of time and logic suspended, and the hope of what is yet to come: these holy threads knit us together with all the saints.
As you prepare to worship, lead, teach, and preach, take a few minutes to bask in the love of Jesus. Remember the faithful who have helped form you for this work and this call, look with love on those with whom you serve, and share that good news with all the passion and energy it deserves—for all the saints, past, present, and future, in Christ's beloved church.
In Worship
Consider how you might weave the themes of "love" and "remembrance" throughout this worship service. Whether you blend the reading appointed for All Saints Day and the 25th Sunday after Pentecost, or simply help people imagine love as the holy yarn that knits all of God's beloved people together across time and space, don't let the opportunity pass you by to emphasize love in a world that seems all too rife with hate.
You might also consider having worshipers tell brief stories to one another about the dearly departed saints they remember today with great love and affection.
With Youth
Our culture does a bang-up job of denying and sanitizing death. Spend time today with your youth talking about Día de los Muertos (Day of the Dead), a holiday on November 1-2, celebrated in Mexico. On this holiday families welcome back the spirits of their deceased relatives for a food and celebration. Youth may want to make their own Day of the Dead skull mask. Learn more here and here—time will be a factor in how elaborate you choose to be with this activity. Consider serving dark chocolate or sugar skulls if you can find a source for them. Talk about how in Mexican culture, death is considered a part of life's cycle, not something to be denied or feared.
With Children
This week's focus verse could be either 1 John 3:1a: See what love the Father has given us, that we should be called children of God; and that is what we are.
Or Isaiah 25:9 It will be said on that day, Lo, this is our God; we have waited for him, so that he might save us. This is the LORD for whom we have waited; let us be glad and rejoice in his salvation.
The theme is how we are all knit together in love. If you have someone in your congregation who knits prayer shawls, ask them to provide a demonstration and tell the children why they are called to make these gifts of love. If you have some small beads or charms that would complement the theme of love, let each child choose one to be "knit" into the shawl with a simple prayer recognizing each child's part in making this special gift and praying that the recipient of the shawl will be blanketed in God's amazing love, healing, and grace.
Weekly Stewardship Bulletin Insert
Today we remember the saints who have gone before us. We give thanks for their lives and for the legacy they left behind. What legacy will you leave when your time on earth is done? How many lives have you reached? Consider how you might leave a legacy gift to continue our congregation's ministries or begin new ones.
Stewardship at Home
Set up photos of those who have died—family, friends, famous faithful folk—and whose lives made an impact on your own faith journey. Make a gratitude list of why you remember and are thankful for them. Share your favorite stories of these beloved saints with others as you celebrate them and remember their legacy. Offer a prayer of thanksgiving for their life and faithful witness. You might even consider making a gift to a ministry or non-profit in their memory.
If you have time, take a look at the Time with Youth section and plan your own Día de los Muertos (Day of the Dead) celebration.
Here's a look back at our 2015 Lectionary Reflection:  https://www.stewardshipoflife.org/2015/10/the-finest-of-feasts/
And here's the 2012 Lectionary Reflection: https://www.stewardshipoflife.org/2012/10/for-all-the-saints-of-tears-and-glory/
Photos: Emma Jane Hogbin Westby, Nicolai Bangsgaard, and Mararie, Creative Commons usage license. Thanks!
Note: Reprint rights granted to congregations and other church organizations for local, nonprofit use. Just include this note: "Copyright (c) 2018, Rev. Sharron Blezard. Used by Permission." Other uses, please inquire: thewritelife@hotmail.com.