Revised Common Lectionary Reflection, Third Sunday after the Epiphany, Year C
January 27, 2019
Lessons: Nehemiah 8:1-3, 5-6. 8-10, Psalm 19, 1 Corinthians 12:12-31a, Luke 4:14-21
Theme:  God's faithful and generous people
Key Scripture: For just as the body is one and has many members, and all the members of the body, though many are one body, so it is with Christ. – 1 Corinthians 12:12
Preaching/Teaching Reflection
What exactly does it mean to be the "Body of Christ" and the "Beloved Community"? We know that the Apostle Paul uses this metaphor in 1 Corinthians (12:12-14) and Ephesians (4:1-16) to describe the church as being Christ's body on earth. Paul understands this body to consist of many members with various gifts, all of which are needed for the body to function properly. The head of the body, of course, is Christ. A helpful image to understand how this works is to compare it to the technique of "spotting" in dance, where a dancer uses her head and eyes fixed on a particular spot in order to keep the body aligned, oriented in space, and moving in a way that helps keep balance and prevents dizziness. It's tougher than it looks for the average bear and requires practice and focus.
Isn't that how the church works? As Paul says, "Indeed, the body does not consist of one member but of many" (1 Cor. 12:14). We need toes, eyes, hands, feet, hearts, elbows, and even a brain. Yet all of these parts work together, in unity, to be more than any one part could be alone. We find our unity in Christ, who is the head of the body, the church. When Christ is our head, our spot is fixed, our alignment correct, and all parts work together to turn and move together. The left foot can't decide to suddenly do its own thing, and the right arm can't choose to drop and have the body follow the lead of the head. There's bound to be a collision or embarrassing fall in the process. Every part of the body must enter the dance and work in concert with the other parts to keep things flowing. And, it takes practice and commitment.
Our lot is bound up together. Paul writes "one member suffers, all suffer together with it; if one member is honored, all rejoice together with it" (12:26). We are as church a community, the beloved community. We exist to love God and to love our neighbors, and we do that best together. We do that best when we use the many gifts God has given to each one of us.
Paul also reminds this community of believers that "For in the one Spirit we were all baptized into one body–Jews or Greeks, slaves or free…" (1 Cor. 12:13). Diversity gathered in unity. Unity expressed through a diversity of gifts and "body parts," all for the purpose of loving God and one another.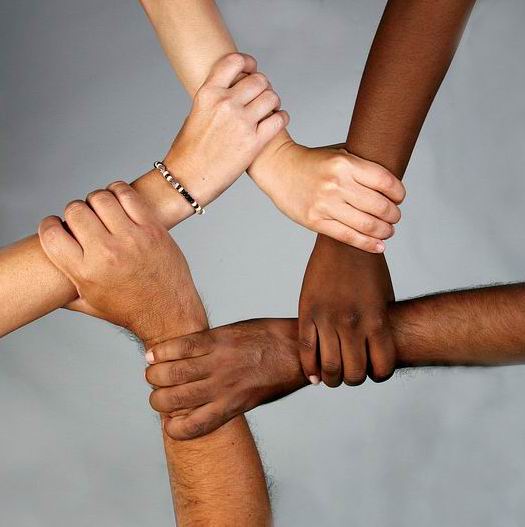 Yes, it's one tall order to be the Body of Christ and to work together for the common good, but we do not do this hard thing alone. We do it together in the beloved community, interweaving our gifts to form a strong web of nurture and support for the common good. We do it one casserole at a time, one quilt at a time, one bag of groceries at a time, one visit to the nursing home a time. We do it by coming together in worship to learn, to prepare, to gather around Christ's table, and to celebrate the in-breaking of a new way of living and being as those baptized into one body.
Yes, we are gifted for ministry and mission, but we are not meant to live and use our gifts in isolation. We need the church, Christ's beloved, imperfect Body here on earth. We need each other to build one another up and strengthen each other. Gifts are meant to be used. Gifts are meant to be given. And, of course, gifts are meant to be joyously received.
In Worship
What's a Body of Christ to do? We know from the reading from 1 Corinthians that we need everyone's gifts and talents to make the body work. We learn more about the "what" and "why" of our existence in the passage from Luke's gospel when Jesus unrolls the scroll of Isaiah and says "The Spirit of the Lord is upon me, because he has anointed me to bring good news to the poor. He has sent me to proclaim release to the captives and recovery of sight to the blind, to let the oppressed go free, to proclaim the year of the Lord's favor." How do we as Christ's body continue to live out this mission today?
Craft a scroll that can be unfurled on a table in your worship space. Invite worshipers to write ways that your congregation can continue Jesus' work described in this passage. Who are the poor in your community who need good news? What does that good news look like? Who are the "blind" who need to see a new way? Who are the oppressed, and how can we help obtain their freedom? What about captives in your community? How can we faithfully proclaim the year of the Lord's favor to those who so desperately need to experience it?
Consider writing the sending blessing as a charge to the people to do these things in Jesus' name. You might also wish to consider singing "Lord of the Dance."
With Youth
St. Teresa of Avila, a 16th century Carmelite nun, wrote a beautiful prayer/poem that describes Christ's body in these powerful words:
Christ has no body but yours,
No hands, no feet on earth but yours,
Yours are the eyes with which he looks
Compassion on this world,
Yours are the feet with which he walks to do good,
Yours are the hands, with which he blesses all the world.
Yours are the hands, yours are the feet,
Yours are the eyes, you are his body.
Christ has no body now but yours,
No hands, no feet on earth but yours,
Yours are the eyes with which he looks
compassion on this world.
Christ has no body now on earth but yours.
We can look at these words as addressed to the individual, but applying them to the Body of Christ provides a fuller rendering, as we are always stronger (and almost always better) when we work together and pool our gifts, talents, and resources for the sake of the gospel. Consider sharing this poem with your youth and inviting them into a creative exploration using whatever art form seems best to share this poem—music, dance, painting, video, photography, etc.
With Children
This week's focus verse is Psalm 19:14:  Let the words of my mouth and the meditation of my heart be acceptable to you, O LORD, my rock and my redeemer.
This last verse of Psalm 19 functions as a simple prayer. Invite the children to think about what it means to pray to God that every word they speak and every thought they have will be acceptable to God. When we say mean things to a friend, how might God feel? If we think bad thoughts about someone and wish them ill, is God glorified? No we're not perfect, and we will mess up. Praying this simple prayer, God, let my words and thoughts be pleasing to you. Amen., is a way to work toward that. The more we ask God to help us and guide us, the more our words and thoughts will be kind and thoughtful.
Invite the children to make the sign of the cross on their forehead, over their lips, and across their chest as a reminder of this simple prayer to have help with their words and thoughts. Finish with a simple prayer.
Weekly Stewardship Bulletin Insert
All are welcome in Christ's body, the church, and all are needed. We need to be good stewards of one another's gifts and talents by encouraging all people and providing opportunities to use these gifts for the good of all. How can you use your own gifts and encourage others to use their gifts?
Stewardship at Home
God has given you unique gifts! How cool is that? Your gifts will find their fullest expression when used for the common good through the Body of Christ. Spend some time this week thinking about the gifts God has given to you and how you have been using them or how you would like to use them. Use these questions to help you reflect:
What gifts has God given to me?
How am I using those gifts?
What fears might be holding me back?
How am I integrated into Christ's Beloved Community so that my gifts may be built up, shared with others, and shared for the common good?
What do I hear/sense God saying to me about using my gifts?
Here's a look back at our 2016 Lectionary Reflection: http://www.stewardshipoflife.org/2016/01/body-builders/
And here's the 2013 Lectionary Reflection: http://www.stewardshipoflife.org/2013/01/a-feast-of-word-and-words/
Photos: Steve DePolo and Wonder Woman0731. Creative Commons usage license. Thanks!
Note: Reprint rights granted to congregations and other church organizations for local, nonprofit use. Just include this note: "Copyright (c) 2019, Rev. Sharron Blezard. Used by Permission." Other uses, please inquire: thewritelife@hotmail.com.