Revised Common Lectionary Reflection, Palm/Passion, Year B
March 28, 2021
Lessons:
Liturgy of the Palms: Psalm 118:1-2, 19-29; Mark 11:1-11
Liturgy of the Passion: Isaiah 50:4-9; Psalm 31:9-16; Philippians 2:5-11; Mark 14:1-15:47; or, Mark 15:1-39 (40-47)
Theme: God's faithful and generous people do not linger at the triumphant procession into Jerusalem, for they know the cross lies ahead.
Key Scripture: And Jesus said to them, "You will all become deserters; for it is written, 'I will strike the shepherd, and the sheep will be scattered.'" – Mark 14:27
Once again, we who lead worship, teach, preach, and serve are faced with the question: "Do we celebrate Palm Sunday or Passion Sunday or a little of both?" There are good reasons to ponder this question, including the reality that the majority of worshipers will not be able to or will choose not to attend every worship service offered during Holy Week. It's only been during the last two years that I have questioned this line of reasoning.
Let me elaborate. Every year I try to enter into Lent and Holy Week with an appropriate mindset and sufficient piety, yet every year I emerge from Easter wondering if I really got the point of Jesus' passion. Some of this wonderment is the result of working all through Holy Week as a minister; it is easy to become caught up in the doing, thus leaving the "being" and "experiencing" in the ashes of my post-Easter exhaustion. Maybe you know a little bit of that feeling, too. For the past two years, I have lived in the valley of shadows with a diagnosis of Metastatic Breast Cancer, a diagnosis that is both chronic and terminal (i.e. there is no known cure). I am now on my denomination's disability roster because of the unpredictable trajectory of my disease. One of the upsides to this diagnosis is that I've been able to look at the passion of the Christ through a new lens, one that is not death avoidant and one that offers a different (and I think more accurate) view of reality, including how I see Jesus.
Add to that the fact that a lot of us have been locked away in our homes and upper rooms for fear of the COVID-19 virus. Not all people feel that way; just look at the revelry and debauchery that has been spring break in Miami, Florida. We've been cooped up too long, and it's almost like shaking a can of soda. When you open it—look out! It's going to spew all over the place. Others are longing to go back to the way things were before the virus; they long for the traditions, the hugs, the activities, and illusion of normalcy that we assumed existed.
So what's a minister or lay leader to do in the face of where we are? I say it's time we faced the cold hard truth of our reality, especially those of us here in the United States. We are more divided than ever, angrier and more willing to act on our anger, and largely unwilling to face the corporate sins of racism and xenophobia that have prevented all Americans and immigrants to our country from having a rightful place at the table, a living wage, and a measure of safety and security in which to thrive. In the span of a week, eighteen of our fellow citizens were brutally murdered in two mass shootings, one with clear overtones of hatred toward people of Asian and Pacific Islander descent and women. Black, indigenous, and people of color face challenges and fears that white Americans have trouble even comprehending because such things haven't been a part of our lived experience for the most part.
Friends, we can no longer allow this to go on unchecked. The church has to step up to educate and equip Jesus followers to do just that. It's not nearly enough that the conservative Baptist church of which the Atlanta shooter was a member voted him out of their fellowship. What about countering the bad theology that set this young man on a path of violence and rage in response to his own inner hatred and feelings of failure? What about countering the systemic racism, white supremacy, and xenophobia in which this young man and so many others have been steeped? In fact, it doesn't take an advanced degree to analyze the difference in the words used to describe both shooters—one white and Christian and one of Syrian descent and Muslim. Don't be fooled my friends; these corporate sins are out there infecting our churches, communities, and homes at a much greater and more dangerous rate than COVID-19, and it's been going on for hundreds of years.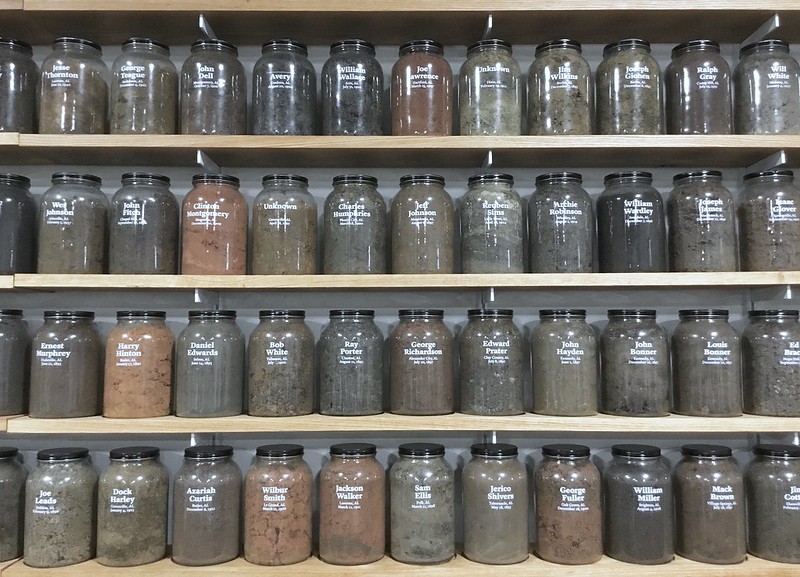 It's time we quit sanitizing and whitewashing Jesus, God's son revealed as a brown-skinned Middle Eastern Jew. It's past time we made a real effort to see through Christ's eyes and face the truth. And my Jesus-follower siblings, it's time we really go with Jesus to the cross and see it for what it is in our own history. Yes, that first-century instrument of humiliation and political torture has nothing on our own American history of the lynching tree and violence against those whose Black and brown bodies we have as a culture perceived as different and "less than."
Jesus predicted that all of his closest disciples would desert him when confronted with the humiliation and reality of his violent death. And they did—even Peter, who protested greatly. We, too, desert Jesus when we fail both to see our own violent legacy and to work to for change and the good of all people. Dear fellow sheep, come home this Holy Week to the Good Shepherd, and let us finally face our collective sin and failures, and stare unflinchingly at the cross of Christ. After all, you can't get to Easter morning without the violence of Jesus' death and the cold hard reality of the tomb. All of our days are numbered; let us make them count.
In Worship
Whatever you do this year, take one small step toward helping your faith community see Holy Week in both a first century and current context. After all, the Christ transcends time and space. Shouldn't our understanding of Jesus' passion?
If you choose to celebrate Palm Sunday, consider the theme of "Everybody loves a parade." People flocked to welcome Jesus to Jerusalem, but things didn't turn out as they expected. What "parades" today do we flock to and then find lacking? Perhaps sporting events, political rallies, and the like? Leave worshipers with the challenge to see Jesus in a different kind of Stations of the Cross. Consider using images and stories from the Equal Justice Initiative's daily racial injustice calendar. Learn more here.
If you choose to celebrate this week as Sunday of the Passion, consider inviting worshipers to take a deeper dive during Holy Week by reading (or rereading as I am doing) James Cone's The Cross and the Lynching Tree. Consider hosting a virtual Stations of the Cross using passages from Cone's powerful and ever-timely work and art or images. Here's one quote worth pondering:
"Unfortunately, during the course of 2,000 years of Christian history, this symbol of salvation has been detached from any reference to the ongoing suffering and oppression of human beings—those whom Ignacio Ellacuría, the Salvadoran martyr, called "the crucified peoples of history." The cross has been transformed into a harmless, non-offensive ornament that Christians wear around their necks. Rather than reminding us of the "cost of discipleship," it has become a form of "cheap grace,"[3] an easy way to salvation that doesn't force us to confront the power of Christ's message and mission. Until we can see the cross and the lynching tree together, until we can identify Christ with a "recrucified" black body hanging from a lynching tree, there can be no genuine understanding of Christian identity in America, and no deliverance from the brutal legacy of slavery and white supremacy."
You won't have much time to preach because of the long readings, but with a little creativity and risk-taking you can provide a powerful context for your community to enter into Holy Week and truly experience Jesus' journey to the cross and radical non-violent love.
With Youth
You likely won't have time with your youth until after Easter, but if you do, consider talking with them about Jesus' non-violent journey to the cross. Invite them to ponder who in our world has mirrored or emulated Jesus' approach. Gandhi, Martin Luther King, Jr., Nelson Mandela, and Bishop Desmond Tutu come to mind. Archbishop Oscar Romero, who was murdered on March 24, 1980, while celebrating the Eucharist, is another possibility. Consider showing one or more clips from films about these leaders. You might also share the hymn "Goodness is stronger than evil" with words by Desmond Tutu and music by John Bell. Here's a youth choir version:
With Children
This week's focus verse is Mark 14:29 – Peter said to Jesus, "Even though all become deserters, I will not."
Have you ever heard the term "famous last words"? Peter's declaration in response to Jesus' statement that all the disciples would desert him is a good example. Sure, Peter had every intention of doing what he said. I have no doubt he meant it with all sincerity and in good faith. But Peter forgot one thing; he was human just like us. Human nature is pretty predictable and hasn't changed a lot in 2000 years. I know that more than once I've said something or promised something with all good intention, but for some unforeseen reason I wasn't able to follow through. It made me feel really sad to fail at keeping my word.
Sure enough, by the end of the night Peter had betrayed Jesus three times—just as Jesus predicted. Can you imagine how devastated Peter must have felt, especially as he watched Jesus die? Fortunately for Peter and all of us today, that was not the last word. Jesus forgave Peter and commissioned him to feed his sheep and care for his people. When we fail, God doesn't give up on us either. Sure there may be some consequences to our mistakes, but God never leaves us or forgets about us. And this is very good news.
One thing we can all do is to be very careful what we promise. Make sure you consider your words and actions carefully. Doing so will give you a much better chance of being able to do what you say or promise. If you mess up, don't despair. God will forgive you and give you another chance. Why? Because God loves you and so do we!
Finish with a simple echo prayer and blessing.
Dear God (Dear God),
Thank you (Thank you) for loving us (for loving us). Thank you for giving us second chances (Thank you for giving us second chances). Thank you for forgiving us (Thank you for forgiving us). We love you, God (We love you, God). Help us to tell others (Help us to tell others) about the amazing good news of Jesus (about the amazing good news of Jesus). And let all God's children say Amen (Amen)!
Weekly Stewardship Bulletin Insert
Sometimes our best intentions don't pan out. Due to life situations, we may not be able to give as much as we want to ministries that matter. The good news is that you don't give up on us, Jesus! You know our heart, and you give us chance after chance to get it right. Thank you for teaching us to be good stewards of all that you have given us.
Stewardship at Home
How will you journey with Jesus during Holy Week this year? I'll be rereading James Cone's book The Cross and the Lynching Tree. Why not consider joining me? Click here for a free study guide produced by the Episcopal Diocese of Rhode Island. This is not an easy book to read, but for white Americans it is an especially important book to encounter and understand.
For families with children, why not plan a Holy Week prayer walk through your neighborhood or town? Stop at places that move you to pray (such as schools, hospitals, fire and police stations, parks, bus stops, and businesses).
2018 Reflection: https://www.stewardshipoflife.org/2018/03/lavish-love-and-costly-stewardship/
2015 Reflection: https://www.stewardshipoflife.org/2015/03/stewardship-lessons-from-the-passion-story/
2012 Reflection: https://www.stewardshipoflife.org/2012/03/of-one-mind/
Note: Reprint rights granted to congregations and other church organizations for local, nonprofit use. Just include this note: "Copyright (c) 2021, Rev. Sharron Blezard. Used by Permission." Other uses, please inquire: thewritelife@hotmail.com.